The Challenge
Kaiser Permanente is a large organization. KP Southern California alone serves over 3.7 million members, has 14 medical centers and 198 medical offices. In order to provide high quality healthcare we have a lot of projects, ideas, and pilots. Keeping track of all of these projects has proven to be difficult.
The Vision
The goals of this app is to:
Track projects by allowing users to upload new projects, edit projects, and find projects.

Help users more easily filter their views and reports based on their individual needs.
My Role
As the lead UX designer for this project I took on various roles that included usability testing and wireframing.
usability testing
Since the users are scattered across the region it was vital that we took advantage of online usability testing.
Wireframing/prototyping/visual design
The wireframes and mockups were created through Adobe Illustrator and Axure.
meet the rest of the team:
2 Engineers, 1 Product Owner, 1 Scrum Master
Discovery
Before going into developing this product we looked at the pitfall of our current solution.
USERS
Users can be split up into two main categories, those that do and don't work for Kaiser.
competitive analysis
While looking into possible solutions we looked into applications such as Formstack.
Microsoft SharePoint
Formstack
Purpose of the site:
This was the solution that was already in place. A tool to share, organize, and discover information.

Competitive Advantage:
• Store and access information securely.Integrate with other Microsoft products more easily.
• Changes can be made by non-developers.

Shortcomings:
• Usability issues.
• Does not create meaningful reports.
Purpose of the site:
Online form builder that enables users to create online forms, including surveys, contact forms, and event registration.

Competitive Advantage:
• Drag and drop, flexible form builder.
• Follows standards of the Americans w/ Disabilities Act, Section 508, WCAG 2.0
• Provides analytics / reports.

Shortcomings:
• Expensive to get an Enterprise Plan.
• Project filtering system is lacking.
process
We sat down and created a timeline for design and development to create a working prototype.
Action
As a team of project managers, designers and engineers; we built the entire application in-house.
high level workflow
Since we already had solution in place (Microsoft Sharepoint), users already had a mental model of the system. We did not alter the overall workflow too much to match that mental model, we also tried to keep terminology/taxonomy the same to ensure there is some level of familiarity.
FEATURE VALUE MATRIX
When trying to determine the MVP, we map out features according to their value and complexity. Complexity is directly correlated to the number of hours it would take to develop.
wireframes
These are of course not all of the wireframes produced but just a few key screens.
These were produced in Adobe Illustrator.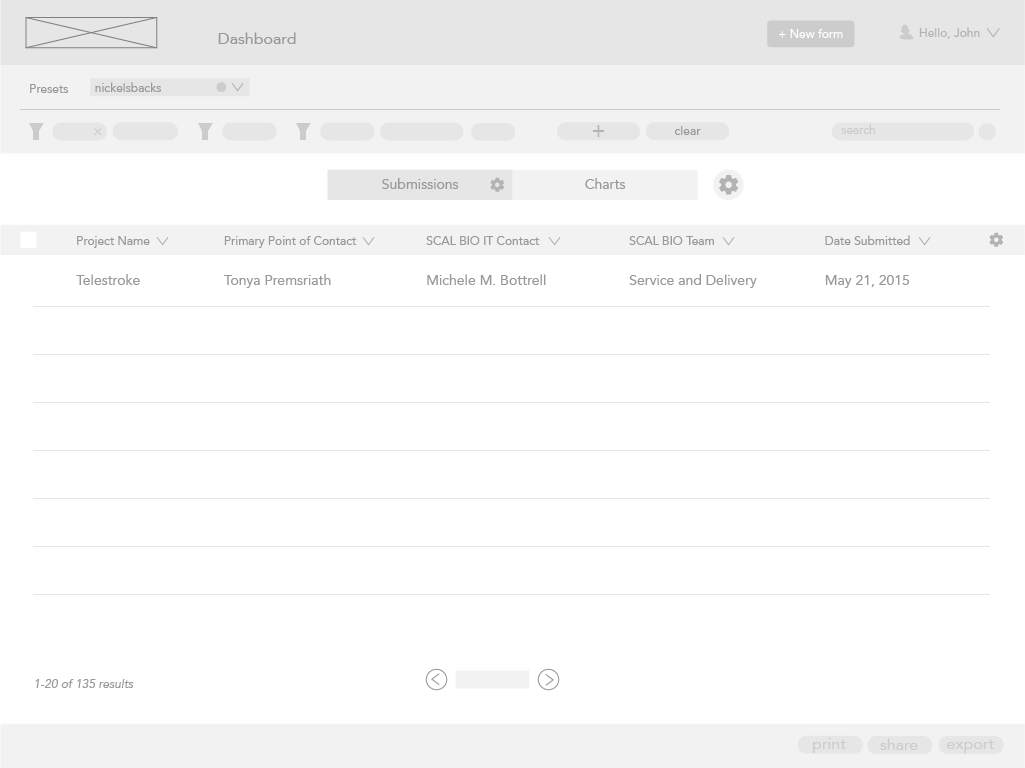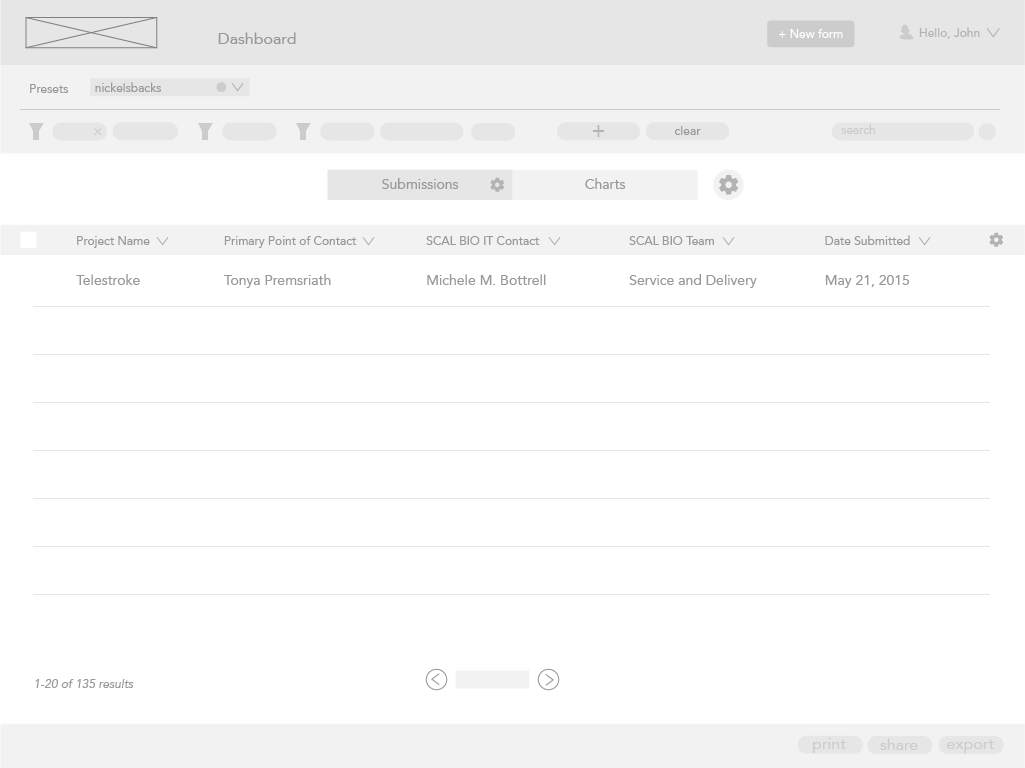 wireframes - detailed view
The filter function was incredibly important to our product and we wanted to get all the details just right. We wanted to answer questions such as: How many information is really necessary to show? How much information is too much? What happens when that piece of information gets too long?
mockups
These are not all the mockups produced, but just a few key select screens.
These were created in Adobe Illustrator.
testing
Along the way we continually tested the product to ensure that we were on the right track. Before it was even launched into alpha and beta testing phases, many of the issues were sorted out.
We also had a built in bug reporting / feedback system that allowed us to continuously gain feedback in areas that needed improvement.
We also host bi-monthly meetings where we gather stakeholders and users to discuss new features and gain feedback.
Detailed View
A deeper look into some of the features.
before and after - dashboard
Left: Our old solution. Right: Our new custom built solution.
One major complaint that we had was that users we not able to see enough content on their screen at once. With this in mind we wanted to really optimize the space we had.
BEFORE AND AFTER - Filter system
Left: Our old solution. Right: Our new custom built solution.
We have over 50 questions in our intake form. Every question is also a column on our dashboard. In Sharepoint it was difficult to manage and re-order all these column so we came up with a new system (on the right) that allows users to simply drag and drop. It made it more intuitive and easy to use.
BEFORE AND AFTER - Search
Left: Our old solution. Right: Our new custom built solution.
We have over 2,000 projects in our system so it's important to allow users to very quickly sort through these projects. In the old solution, any keyword search took the user to a new page with the results. It wasn't an optimal workflow and slowed down users so we implemented a live search (on the right).
Documentation / Collaboration
The other designers (includes the creative director & senior ux designer) mostly work off-site so it's even more vital to be able to produce effective documentation.
for other designers
This is the type of documentation I produce and present to other designers. Although the content varies, the overall flow remains consistent.
It always starts with the problem we're trying to solve followed by 1 proposed solution. The following page provides research & data that backs up this solution. Lastly, I include any alternative solutions.
FOR engineers
An example of the type of documentation I would prepare for engineering. Light on the annotations since we sit directly next to each other and collaborate on a daily basis.
Results
It's been over 6 months since we first launched and since then we have:
gained over 200 users

house over 2,000 projects

service 15 major regions (in S.California)
Next Steps
As we finish phase 1 of this project we will continue to iterate and move forward to phase 2 and add more features while taking into consideration any learnings.
Admin panel
For the past sprint I worked on designing an admin panel that would allow our business consultants control over some aspects of the program (such as deleting users and editing the project form) without having to ask the engineering team. Because there are other groups at our company that are interested in the product, in the long run, it helps us create a more packageable / scalable product.