The Challenge
For typical patient with diabetes common tests include: Hemoglobin A1C and Creatinine. The results of these tests can be difficult to decipher due to its lack of context and color. If patients had a stronger understanding of their overall health, they would be better equipped to make better decisions about their health.
The Vision
The goal of this web app is to:
utilize human-centered design to develop a system of displaying lab results that makes it easier for patients to interpret

create universally accessible data that can be accessed on desktop, tablet, and smartphones but also as a printout

present patients with actionable items according to their specific needs that are both short term and long term
My Role
I worked closely with another UX Designer and a Physician to develop a proposal and prototype to pitch for funding.
user testing
I collected both qualitative and quantitative data to aid design decisions and ensure we were moving in the right direction.
solution brainstorming
Meetings with physicians, designers and engineers to to come up with ideas on how to best create this interactive product.
wireframing
I went to numerous rounds of wireframing to optimize and develop the best user experience possible.
Meet the rest of the team:
UX Designer, KP Physician
Discovery
There are many problems we want to solve within the healthcare space but during the discovery phase we narrowed in on specific issues we can tackle.
Competitors
I looked into existing products on the market to see what they did well and what some of the concerns were.
users
Consulting the physician, we came up with several different groups of users.
brainstorming
Although we had many potential issues we could solve, we decided on one that suited the services of our department. We focused on 3 main topics: interactivity, connecting patients with healthcare professionals, and developing personal action plans for patients.
Action
After honing in the problem we wanted to tackle, we ran with it.
content
After assessing several different existing products we began to understand what type of content we wanted to have while leveraging all the resources KP has to offer.
1st iteration
We developed the first iteration very quickly to get feedback on from physicians and managers.The consensus was to continue to push the digital experience and focus on the personalize action plan for each patient.
2ND ITERATION
After gaining a better understanding of what the physician is envisioning we went through another round of wireframes, this time spending more time fleshing out the details.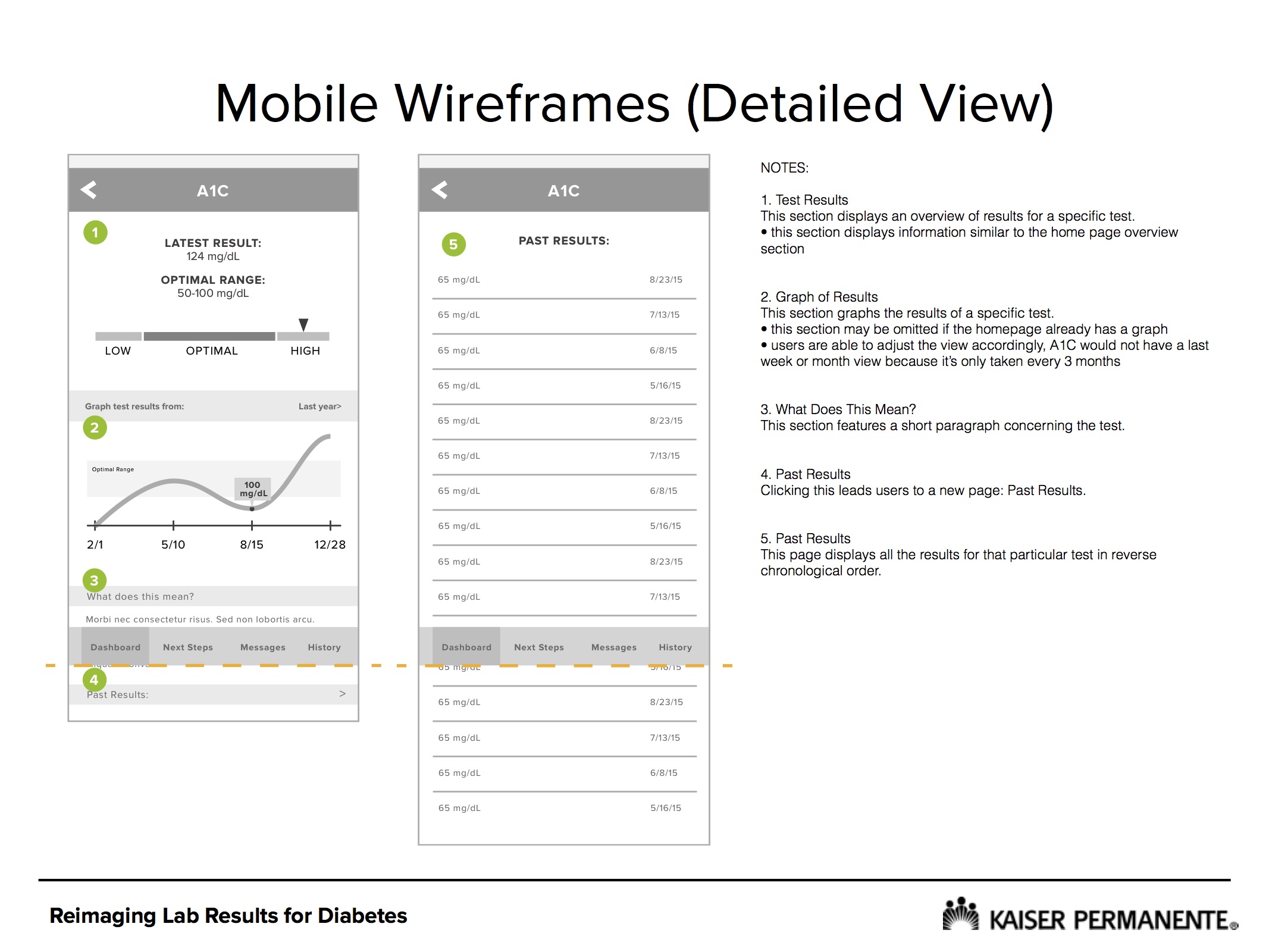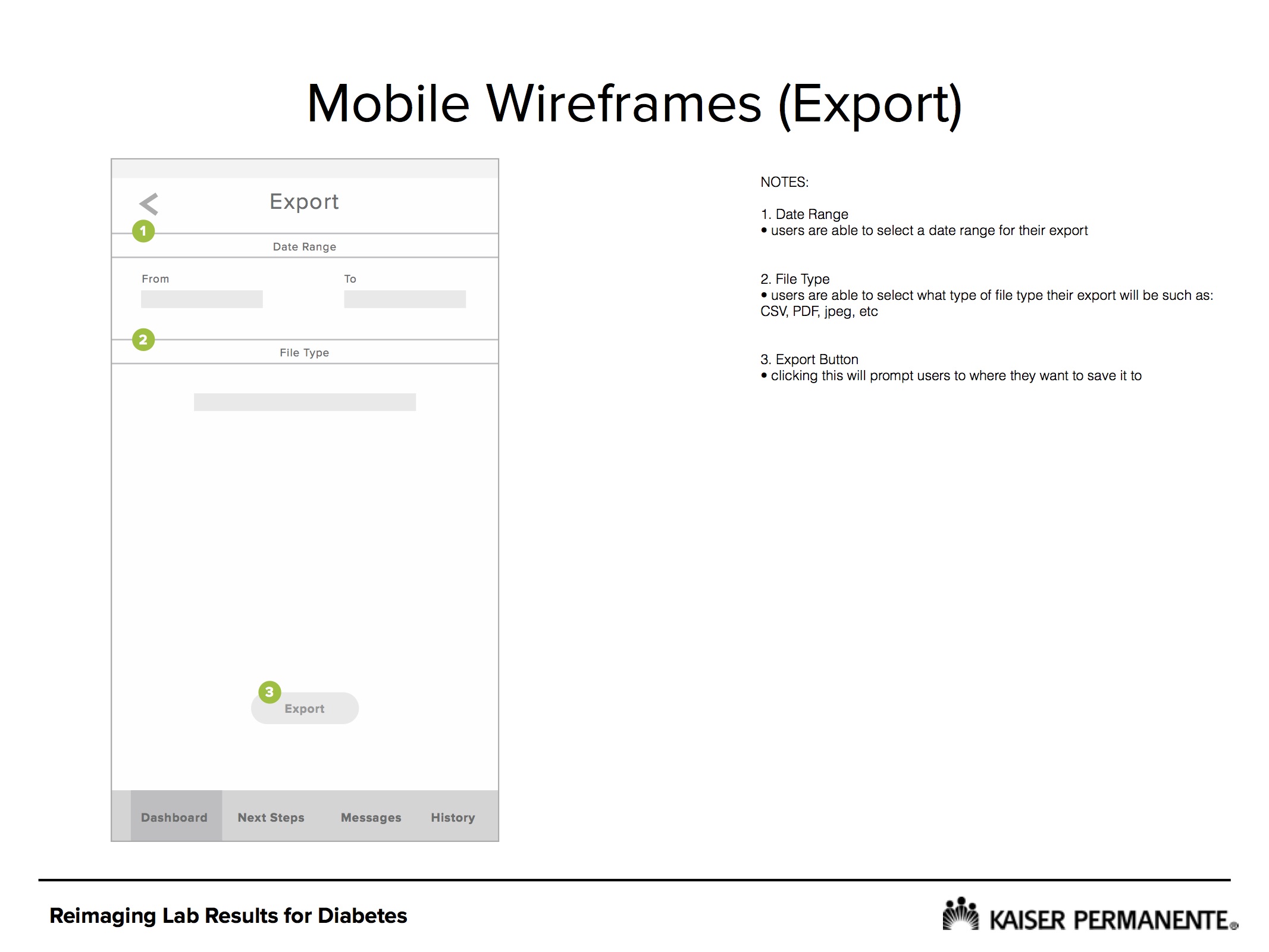 3rd iteration
At this point I began to work with another UX Designer to gain feedback and further develop the wireframes into mockups and eventually a prototype.
testing
To make sure we were moving in the right direction I conducted some user testing.
graphs
Do users have an easier time interpreting bar graphs over line graphs? In this scenario, the accuracy remained the same. Regardless of the type of graph we presented, users were able to understand and interpret the graph. The biggest difference between all 3 solutions is the amount of time it takes for the user to get to that state.
overall health score
Although the standard deviation for the letter grade system was larger, users were able to develop an interpretation of their score quicker.
past results
We not only want to give users a more holistic, birds-eye view of their health but nitty gritty specifics as well. We aren't looking to reinvent the wheel here but we did want to try and optimize the time it takes for users to interpret and understand their results. Overall, we were able to improve this section by 17.5 seconds.
4TH ITERATION (final iteration)
Using all the feedback and testing, we made some changes and developed an optimized version.
Results
I then turned it into a clickable prototype that would help aid us in pitching the idea to business partners.